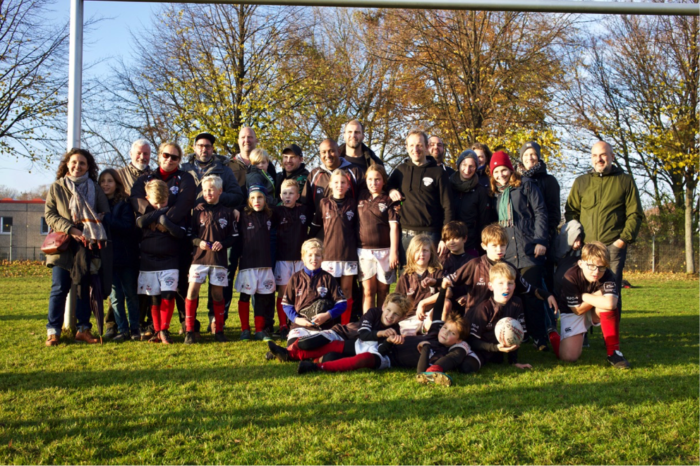 On a very wet and cold Sunday morning in November, a sizeable squad of 14 BSV-U10 players and
their parents trekked across the city to Weißensee for our final tournament of the year. There were
not enough players to split into two teams like we did in our previous two tournaments, so this time
we could unfortunately only enter one team. With 6 substitutes the only tournament goal we spoke
about during our warm-up was that every player would be given a fair chance to play.
In wet, muddy and slippery conditions, our lilywhite shorts were drenched in different shades of
brown, before our first game even started! But everyone was fired up for the game against Rugby
Union / Hennigsdorf, which was dominated by BSV-U10. We fed off opposition mistakes in the first
half and scored most of the tries from turnover ball to lead 4-0 at the break. All our substitutes got
game time in the second half and our superiority in the ruck and strong line defence meant that
there was no way through for Rugby Union / Hennigsdorf. A few individual break away tries from
BSV-U10 in the second half resulted in a final score of 8-0 and a solid start to the tournament.
During the match break, the team profited from the experience and knowledge of Jozo and Martin,
both of whom made an extra effort to come support the team in Weisensee. The benefit of the extra
coaching to the team was immediately evident in the next game against the tournament hosts,
Rugby Klub 03. A starting 8 of experienced players developed and as soon as they established a
strong lead, the substitutes were used to close out the game. And like in the first game, despite the
changes, the performance of the team and try count remained consistent in the second half. Strong
tackling, secure rucks and good handling of the wet ball was the basis of the 8-0 victory. All 14
players wanted to play and stay on the field all the time – a dream scenario for any coach – and there
grunts and moans whenever a player was substituted.
OranienRaptors posed a different challenge in our third game. We had to stop the threat of their
bigger players. In defence, our quick line speed, low and double tackling was key in not allowing
them to gain momentum with ball in hand. That was the job half done. On attack, our speed,
stepping and breaking first tackles proved too hot to handle for the OranienRaptors players. But even
though we led 5-0, which was the end result, we defended our line until the final minute. Even when
the OranienRaptor's best player made a break down the touchline and almost scored, a last gasp
tackle meant that as the winners of Group A, BSV-U10 had not yet conceded a try in the tournament!#
The final was against the winner of Group B: Berliner Rugby Club (BRC). BSV-U10 loves playing
against BRC and our previous games this season have always been close. It must be admitted that the
BSV-U10 players were still smarting from the tournament loss to BRC in Potsdam. It was therefore
the perfect opportunity to 'settle the score'… The main goal was to win the game and hence the
tournament, but from a development perspective, the team aimed to improve on the previous
performances of the day. The rain stopped. The sun came out. Both teams were up for it and didn't
give an inch. Crunching tackles, solid rucks and retaining possession made for a tight first half, which
BSV-U10 led by scoring the only try just before the break. There was only one instruction at halftime:
Play in the opposition half. BRC was chasing the game, but were not allowed to get out of their half
as planned. Even more impressive when in possession, was the passing and ball retention of BSV-U10
players. And of course the effectiveness, scoring almost every time or coming very close when they
had the ball. Because of the strong BRC defence, there were no individual tries, but all 3 tries of our
in the second half came from a combined effort over multiple phases. From the coach's perspective,
BSV-U10 played their best game of the season 🙂 The players were very proud that they had won the
tournament without conceding a try. A perfect way to end the year!
Players
Anatole, Béla, Bruno, Emile, Emma, Enno, Faddey, Henri, Jacob, Javier, Kilian, Lasse, Philip, Valerie
Results
vs. Rugby Union / Hennigsdorf (Won; 8 – 0)
vs. Rugby Klub 03 (Won; 8 – 0)
vs. OranienRaptors (Won; 5 – 0)
vs. Berliner Rugby Club (Won; 4 – 0) Final
Playing format: Each game 2 x 7 min. with 8 players
Weather conditions: Overcast/rain/sunny/11 degrees
Report: Russell
Photos: Stefan & Frank