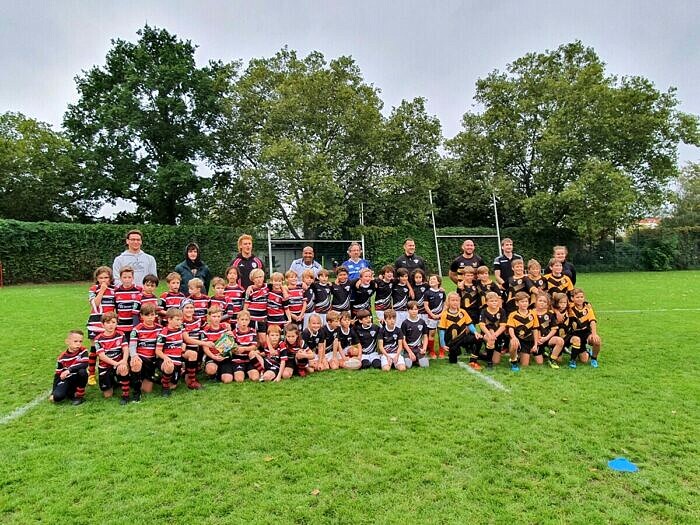 Die Absage des Turniers in Velten führte zu einem sehr schönen Trainingsturnier mit den U10 Mannschaften des BRC und des RK03 am frühen Morgen des 25.09.2021. Jede Mannschaft stellte zwei Teams.
BSV rot/red/rouge
After needing to cancel the planned tournament on the 26.09.2021, the Berlin trio clubs scheduled a friendly round of games on Saturday morning.
We we honoured to welcome BRC and RK03 with a great turn out that each club had 2 teams to offer.
The day started with beautiful British weather, leaving the field soft and wet.
The kids in BSV red played great rugby showing team spirit and making sure they display what the trainers have been teaching the past weeks.
As the games came to an end, the skies cleared and the kids with parents joined our annual BSV-Familienfest, making it a long successful rugby packed day!
Fred (Julius' dad)
BSV schwarz/black/noir
Samedi 25 septembre au petit matin, quelque part dans un petit quartier de Berlin. Le ciel est couvert et un léger grain asperge la pelouse du terrain de la rue Forckenbeck.
Des grappes de joueurs rouges, noirs et jaunes s'activent et se préparent le long du terrain. Le rk03 et le brc sont venus en nombre pour ces rencontres amicales avec nos jeunes u10 du bsv92.
L équipe bsv noire représentée par Freya, Sinan, Milan, Adrian, Armin et Louka font parler la poudre par leurs percées tonitruantes et leurs feintes deroutantes. Au final, des résultats encourageants pour cette équipe qui n'avait pas beaucoup eu l'habitude de jouer ensemble.
Merci à Aidan, Russell, Kim et Nina pour l'organisation de ce tournoi éphémère et au rk03 er brc d'avoir répondu présent
Cyril (Papa de Louka)